UK's oldest poppy seller marks Remembrance Day in Bath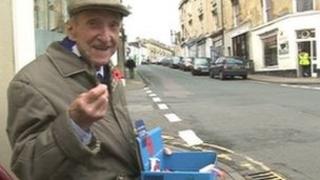 The man believed to be the UK's oldest poppy seller has spent his last Remembrance Day in Bath as an appeal organiser.
Ted Lewis, 97, has been a leading Poppy Appeal fundraiser for 20 years, but he said he was "getting on a bit".
"Though next year I will probably still go out and about on the streets with my tin and do my bit," he said.
Mr Lewis joined the army aged 22 and served for 35 years, including fighting during World War II.
He said: "I spent my life in the army and you never forget and you want to support the Royal British Legion.
"I think it's important to help soldiers' families and the legion does a good job of doing that."
Speaking of his time in the army, he said: "My first lesson in the British Army was that we exist only to be as efficient as we can, to see that peace is maintained, and that problems between people and countries is solved by reason and not force.
"Our job therefore was to prevent trouble starting, and if it did start, to bring it efficiently and quickly back to a state of peace and reason."
'Great fun'
Mr Lewis has been a Poppy Appeal organiser in the Larkhall area of the city.
"It's been my job to make sure the boxes are where they are supposed to be for two weeks every year, he said.
"But this will be my last year as organiser. I'm getting on now," he said.
He enjoys the accolade of being Britain's oldest poppy seller.
"I've got used to being the oldest in an awful lot of things - I'm the oldest season ticket holder at Bath Rugby Club as well.
"But it's great fun and everyone makes a fuss of me. I love it."