My Family actor Kris Marshall banned from driving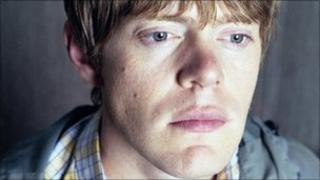 My Family star Kris Marshall has been banned from driving after being found by police asleep behind the wheel of his Jaguar in a supermarket car park.
The 38-year-old actor, who is also the star of BT's long-running television advertising campaign, was disqualified for six months by Yeovil magistrates.
The actor, of Long Barton, near Wells, Somerset, pleaded guilty to a charge of failing to supply a breath specimen.
South Somerset Magistrates' Court was told he was found asleep on 1 October.
'Eyes glazed'
The actor was discovered with the seat reclined, key in the ignition and the radio on, asleep behind the wheel of his green Jaguar.
The two police officers who woke him up could smell alcohol and Marshall admitted he had been drinking, magistrates heard.
Prosecutor Tim Rutherford said: "His speech was slurred and his eyes were glazed."
Marshall gave a positive breath test and was immediately taken to Yeovil police station where he failed to supply a second breath test.
Marshall blamed asthma for failing to blow into the the intoxilyzer machine.
Defence lawyer Richard Hallam told the court that Marshall had been in London that day and had returned by train - drinking a gin and tonic during the journey.
'Little bit aggrieved'
After collecting his car at Castle Cary station, he then drove to Wells town centre and decided to go out for a few drinks and left his car in the Tesco car park.
"He returned to the car and he realised that he was over the limit and he made a decision that he was not going to drive the vehicle," Mr Hallam said.
"His walk home would have taken him through an unlit wood. He could have got a taxi but he didn't want to leave his car so he stayed with the car and slept there.
"He reclined the seat fully and he was clearly asleep on the seat when the officers came and spoke to him.
"The truth of the matter is that he felt a little bit aggrieved at being arrested and that he felt he had made a responsible decision not to drive the vehicle and simply slept in the vehicle.
"Members of the public do not really understand the charge of being 'in charge of a motor vehicle' and do not understand why they are being arrested."
Mr Hallam said Marshall's "mistake" was not to breathe into the intoxilyzer machine properly.
"If he had provided a specimen he would have been over the limit, clearly," Mr Hallam said.
"He made a mistake of not co-operating with the procedure."
Mr Hallam said that had Marshall been charged with being in charge of motor vehicle while drunk, he would have advised him to plead not guilty and would have defended him in court.