M5 crash: 'Weeks' before cause known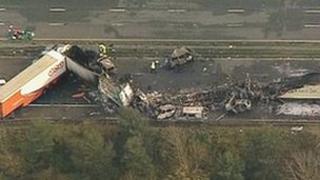 It may be some weeks before the cause of the M5 crash in which seven people were killed is known, the transport secretary has said.
Justine Greening confirmed to MPs 37 vehicles were involved and 51 people hurt in the Somerset crash, on Friday.
Among those killed were two lorry drivers from the same company. A third company driver was injured.
Police investigating the cause are treating a nearby fireworks display as a "major line of inquiry".
Ms Greening, in a statement in the Commons, said: "Given the large number of vehicles involved, the need to carefully look at those vehicles recovered and to talk to many of the witnesses, it may be some weeks until the investigation can conclude on any cause or causes of this incident."
'People supported'
Lorry drivers Kye Thomas, 38, of Gunnislake, Cornwall, and Terry Brice, 55, of Patchway, Bristol, were named on Monday as being among those killed.
They worked for Leicestershire-based Samworth Brothers, which said a third employee was injured.
Director Mark Samworth said: "Our main priority at the moment is to offer as much support and help as needed to the families of those who have died and to the injured driver and his family.
"It is also a very difficult time for other colleagues at Samworth Brothers Distribution and we are ensuring our people are being well supported."
Other victims of the accident included Malcolm Beacham from Woolavington, Somerset.
'Deeply shocked'
Emma Barton, from Windsor in Berkshire, was seriously injured in the crash, at junction 25, near Taunton. Her boyfriend Chris Burbull was also hurt.
Thames Hospicecare, for whom Ms Barton worked and where Mr Burbull did voluntary work, said it was "deeply shocked".
"Our heartfelt thoughts and sympathy are with Emma, Chris and their families at this critical time," it said in a statement.
On Sunday, police confirmed married couple Tony and Pam Adams, from Newport, south Wales, were among those who died.
The family of Mr and Mrs Adams said they were heartbroken at their loss.
Canon Andrew Willie said the couple, who were in their 70s, had been teenage sweethearts who were together for more than 50 years.
Taunton Rugby Club, which had organised the firework display, said it was assisting police with the investigation.
That will focus on whether smoke wafted across the carriageway.
"We are helping the police in any way we can to ascertain the cause of this tragedy," said the club in a statement.
Taunton Deane Borough Council is meeting police officers to talk through event licence requirements.
Police have not established what caused the crash but said "a bank of smoke" had been across the M5 at the time.
The motorway has now reopened in both directions.
Avon and Somerset Police Assistant Chief Constable Anthony Bangham said his focus was the Friday night event and people who had attended the fireworks display would be interviewed by officers.
"Our main line of inquiry has now moved towards the event that was on the side of the carriageway," he said.
"We do believe that whilst there was fog and difficult conditions in the area, that actually from witness evidence there was very significant smoke across the carriageway which in effect caused a bank, similar to a fog bank, and this was very distracting and very difficult to drive through.
"We will be doing everything we can to find out as quickly as we're able to what's behind that."
The coroner for West Somerset, Michael Rose, said he planned to open inquests into the deaths of the seven victims of the crash on Thursday.
"I have requested three forensic pathologists to carry out post-mortem [tests] today on the seven victims of the tragic incident," he said.
In the nearby town of Bridgwater, about 1,000 people observed a minute's silence at the carnival statue on Sunday.