Lone protester camps at Taunton church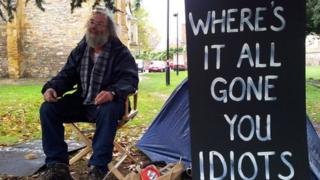 A lone protester against "capitalism spiralling out of control" has set up camp in a Somerset churchyard.
Company director Steve Watkins, 59, said he felt compelled to do something after he saw the protests in London.
He has a sign outside his tent at St Mary Magdalene Church in Taunton which reads "Where's it all gone you idiots".
Vicar Rod Corke said: "I'm very happy to endorse his right to protest in the churchyard."
Activists protesting against inequality and corporate greed have been camping outside St Paul's Cathedral since 15 October.
Mr Watkins, who runs a business in the Blackdown Hills, said: "We've got this financial crisis I think in part caused by the city.
'Bad capitalism'
"We're paying for it and they're still getting their bonuses."
He said was not anti-capitalism, but "anti-bad capitalism".
"Yes I am a capitalist if you like, but like a lot of other people I work hard, every waking moment I'm thinking about my business or doing something," Mr Watkins said.
"There are lots and lots of people like me, not being a burden on anybody but also feeling that there's something not quite right."
He said did not expect to achieve a "fat lot" with his protest.
"I hope just to make more people aware of what's going on," he said.
"Most people say 'what can I do about this situation', well this is something I'm personally doing. It's no big deal, I'm not asking people to join me.
"I don't want this to become some ghastly camp with all different factions.
"I said I will go when he [the vicar] wants me to go... I said in any case that I will be gone by Remembrance Sunday because I don't want to take anything away from that."
The Reverend Corke said the two had been to the pub on Thursday night to talk things through.
"He [Mr Watkins] in turn has said that if I need to say he should move on, then he'll do that," he said.
"Clearly I have some concerns there in the background, but what I see at the moment is a man who's been very moved by what's happened in London and wants to express for himself his concern about the financial situation."