Somerset charity calls for volunteers to watch sheep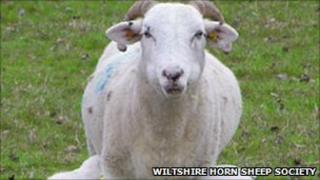 A Somerset charity is looking for volunteers to watch a flock of rare Wiltshire horn sheep over the winter.
The Avon Wildlife Trust is using a flock to graze and clear scrub at the Brown's Folly reserve near Bathford.
For the last 20 years, the scrubland plateau, which overlooks Bath, has been cut back by hand.
Joe Middleton, from the trust, said: "With the sheep keeping the scrub under control - we just need a team of sheep watchers to keep the sheep safe."
He said a flock was introduced five years ago, but within days someone had let the sheep out.
"That's why we're looking for a team of volunteers to watch the flock - make sure they're happy, the fences are secure, the water trough is working and the site is litter free," said Mr Middleton.
Brown's Folly, which lies on the remains of Bath stone quarries, provides a habitat for a range of flora and fauna.
'Test sheep'
Next week, two sheep will be released into a small fenced area of the reserve as a test.
If everything goes well the rest of the flock will be introduced by the end of the month.
"We already have a team of 12 sheep watchers - the police are involved as well as a nearby security company - but we want as many people as possible," said Mr Middleton.
"The Wiltshire horns are conservation grazers, so hopefully they'll eat all the rough stuff like brambles and keep the area clear and the spectacular views across Bath open."