Action 'could be taken' against Occupy Bath protesters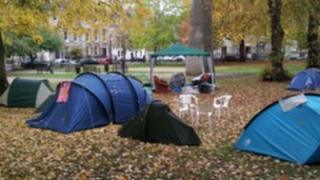 A councillor has said the local authority will take action to remove protesters who have set up camp in Bath unless their demonstration ends soon.
The Occupy Bath protest in Queen Square has entered its fourth day.
Protesters opposed to financial inequality and politicians' handling of the economy have put up tents at the site.
Liberal Democrat Gerry Curran said the square should not be dominated by one group.
The Bath and North East Somerset Twerton ward councillor, a member of the party which runs the council, added that he believed the demonstrators were due to move on soon.
"I think if this encampment was to stay here long term, the council would have to take action against it but we believe that it is a temporary encampment which is going to move on next week.
"The square is for everybody to use and it is very well used... it shouldn't be dominated by any one group to this extent."
One protester, a student at Bath Spa University called Bruce, said the group wanted to raise awareness of the global Occupy movement against inequality and corporate greed.
"It's a case of communication and education," he said.