More teachers taking sick leave across Somerset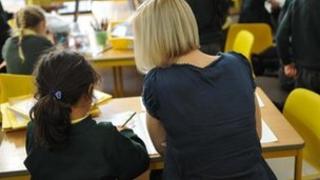 More teachers in Somerset are taking sick leave for stress and other mental illnesses compared to three years ago.
BBC Somerset's FOI investigation asked three Somerset councils for figures dating back to April 2008.
The National Union of Teachers (NUT) has blamed government pressure on schools to meet performance targets.
The government said stress could be caused by issues unrelated to work and "huge progress" had been made in cutting out regulations and red tape.
A spokesman from the Department for Education said: "We've cut down the Ofsted inspection regime and rules around lesson planning, financial management and removing of statutory requirements on schools.
'Downward pressure'
"To date, over 7,500 pages of Whitehall-set guidance have been reduced to 1,500 and we're cutting it down even more as part of our ongoing work."
North Somerset Council figures showed a rise in the number of teachers taking sick leave from 42 to 48 between 2008-11, while in Bath and North East Somerset Council this rose from 36 to 41 for the same period.
In Somerset the figure rose from 186 in 2010 to 220 between April 2010-March 2011. No earlier figures were recorded for 2008-9.
Robin Head, of Somerset NUT, said: "It can only get worse as far as I can see as the downward pressure is getting worse, Mr Gove [Minister for Education] is using the threatening language of closure in schools in very difficult circumstances where they have no capacity to improve."
The investigation also showed that in the North Somerset and Somerset local authority areas, the time taken off for sick leave had also increased.
In North Somerset, this rose from an average of 24 days taken off sick between 2008-09 to 32 in 2010-11.
Over the past two years, this figure also rose in Somerset from 10 days between 2009-10 to 19 days in 2010-11.