Somerset man arrested over damage to Priddy Circles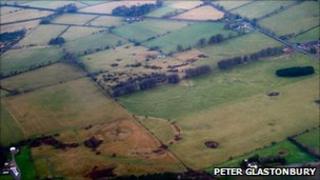 A 72-year-old man from Somerset has been arrested on suspicion of damaging a prehistoric monument near Wells.
Damage was done to a section of the Priddy Circles, which is made up of four large Neolithic circular henges, at some point in May or June this year.
Avon and Somerset Police questioned the man and released him on police bail.
English Heritage said it was a criminal offence to intentionally or recklessly destroy or damage a scheduled monument without lawful excuse.
According to Somerset County Council, Priddy Circles is one of the most important prehistoric monuments in the county and constructed approximately 5,000 years ago.