Korean War museum plans unveiled for Gloucester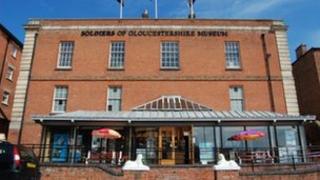 The first museum in Europe dedicated to the Korean War could be built in Gloucester.
Trustees at the existing Soldiers of Gloucestershire Museum at the city's docks have announced they want to expand into neighbouring buildings.
Troops from the Gloucestershire regiment, fighting for United Nations forces, played a key part in battles against the Chinese in Korea in 1951.
Trustee Chris Ryland said the new museum would cost £2m to £2.5m.
Although funding is yet to be agreed, those behind the project said they hoped they could get some of the cash for the museum from the Korean Government.
"Since World War Two there were more British casualties in the Korean War than in all the other conflicts put together," he said.
"From a Gloucestershire point of view we had a key role in that, and we feel the mantle has fallen to us to try to bring this about."
"The Gloucestershire Regiment lost the most men of any British regiment - 109 - at the Battle of the Imjin River.
"It was an iconic battle. Two Victoria Crosses were won. The Glosters held up an entire Chinese army for three days - we would say there's a very strong connection [between the Korean War and Gloucestershire].
Mr Ryland said he hoped the museum would be open by 2013 in time to mark the 60th anniversary of the end of the Korean war.
Gloucester City Council has offered to sell an empty building which is immediately next to the Soldiers of Gloucestershire Museum.
"There are 200 museums in London already. This would be a major coup for Gloucester if we can bring it here," said Mr Ryland.