YMCA's youth centre plan in Street wins £1.7m grant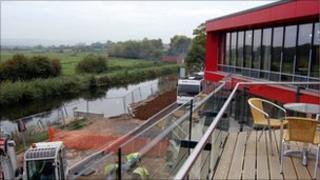 The youth charity YMCA has secured £1.7m in government and council funding to build a new centre in Somerset.
The building in Street will house up to 19 people and will also offer youth support services such as training.
Karen Deverell, from Mendip YMCA, said: "Mendip is an area where accommodation is not affordable for young people so quite often they struggle."
The YMCA received £1m in funding from Mendip District Council and £718,000 from the Homes and Communities Agency.
Relationship breakdown
"We house a proportion of people who've been in local authority care in the past so going home is not an option or for those who've lost a parent or who've had a breakdown in the relationship of their family - there is a wide range of reasons why they live at the YMCA," said Ms Deverell.
According to the charity about 25 young people aged between 16 and 25 are looking for a home in the Street area.
The charity has bought a piece of land in the town to build the new centre, but must secure planning permission before work can start.
It is hoped the new building will be completed by April 2013.
The YMCA also built a £5m centre in Bridgwater which opened in 2010.