Hospital neglect led to death of toddler Lucas Wellstead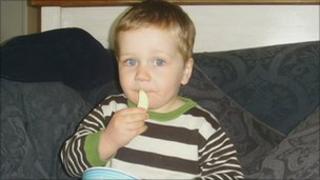 A coroner has ruled a verdict of natural causes by neglect contributed to a Somerset toddler's death.
An inquest found neglect at Weston General Hospital led to the death of two-year-old Lucas Wellstead, from Weston-super-Mare.
The toddler died from septicaemia and pneumonia the day after being assessed at the hospital on 20 January 2010.
A hospital spokesman said it has since changed its procedures and that patient safety was its "highest priority".
Lucas had had been sent to the hospital after his GP noticed a meningitis-type facial rash. But hospital doctors diagnosed a minor viral infection and sent him home.
The two-day inquest at Flax Bourton Coroner's Court near Bristol heard that a blood test at the hospital's Seashore Centre children's unit had ruled out meningitis.
Observations 'not repeated'
However tests showed that he had a high temperature, along with abnormal respiratory and heart rate readings.
The morning after being sent home from the hospital, Lucas was found dead in his bedroom.
Speaking at the inquest, Dr Nelly Ninis, a paediatric consultant and septicaemia expert from London, said checks on Lucas's body temperature and his heart and breathing rate were not taken enough at the hospital and it was for that reason that they missed the signs for pneumonia and septicaemia.
Dr Ninis added that Lucas should have had a chest x-ray and that a course of antibiotics could have saved his life.
Coroner Maria Voisin ruled that there had been "a gross failure in relation to the provision of basic medical attention given to Lucas, specifically that in not repeating the observations during Lucas's stay at the hospital".
The hearing was told that since Lucas's death, Weston Area Health NHS Trust had changed procedures at the hospital in an attempt to ensure basic observations were carried out every two hours.