Portishead youth centre £1m refurbishment 'justified'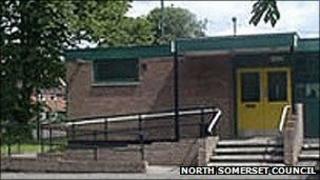 North Somerset Council has defended spending £1m to refurbish a Portishead youth centre at a time when youth service jobs are at risk.
The council wants to cut its youth service budget by 72% by 2013/14 as it tries to save £47.3m by 2015.
It means 22 youth workers employed by the council would lose their jobs. Some would be redeployed.
The council said a new service would be introduced working with the most vulnerable families.
Councillor Jeremy Blatchford, executive member for children's services, said the refurbishment which was completed last week, was justified because it is a "community facility".
"[It] is not going to be just a youth club. We have part of the children's service working from there and other people. It is very much a centre for families and the community.
'Justify its use'
"If the youth club wants to use the facility it's there, but they have to justify it by getting people through the door.
"The numbers of people who are using [youth centres] are very small. Close to 97% of young people don't use the universal youth service at all."
Mr Blatchford confirmed the cuts would mean the equivalent of 22 full-time posts across the county would go.
Instead a new service would be introduced, working with "the 300 most vulnerable families in the area".
"This would provide employment for 7 or 8 full time posts," he said. "Youth workers would be able to work with young people in the council's community and family service.
"There is also work that they can do involving six hundred private providers already operating in North Somerset such as the scouts, guides, and St John Ambulance," he added.
"There will be some workers working for the authorities, others will have to find alternative ways of employing themselves."
Portishead youth centre offers activities for teenagers, including social and sporting activities, trips, educational workshops and arts and crafts.
The proposals to cut youth services in North Somerset are due to be examined by council scrutiny panels before a final agreement is expected in early 2012.