AgustaWestland helicopters to shed up to 375 jobs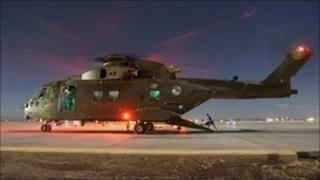 Up to 375 jobs are to go at Somerset-based helicopter maker AgustaWestland, it has been announced.
The company said the "restructuring" would be mainly in management and corporate roles in Yeovil and at Farnborough in Hampshire.
As the Ministry of Defence's budget is tightened, the company is expanding in the commercial sector.
Yeovil Lib Dem MP David Laws said the announcement was "further bad news for South Somerset".
The company employs almost 3,600 people in the UK, mainly at its factory in Yeovil. Its business headquarters are in Farnborough.
The firm is planning to build civil helicopters which it hopes will be used by the police, air ambulance, Coastguard and private individuals.
It recently launched the AW169 civilian helicopter which is expected to enter service in 2015.
'Considerable support'
The company said export orders had slipped in the near term, but were projected to grow.
Ray Edwards, managing director of AgustaWestland said: "These steps together - the increased civil aircraft work-flow, the launch of the AW169 and the streamlining of the workforce - will place our UK operation on a strong footing and enable us to keep the skills needed for the UK to retain a viable helicopter capability.
"Our military business remains central to our success. This said, extending our capabilities in civil production and competing for export programmes, both areas where the government has shown considerable support, are the keys to AgustaWestland's future."
Mr Laws said he had been in discussions with the company's senior management.
"The figure of 375 possible redundancies is the maximum number being looked at, including in other parts of the country, and it is possible that the final figure will be lower than this," he said.
"It is a particular worry for me that these job losses come on the back of the total of 250 other planned redundancies already announced by BAE Systems and at RNAS Yeovilton."
He said he would meet BAE Systems' chief executive "to press him to look at reducing the planned job losses in Yeovil".
Business Secretary Vince Cable said: "The news of job losses at AgustaWestland will be upsetting for the individuals involved and the wider community in Yeovil.
"The JobCentre Plus Rapid Response Service is on hand to provide a range of support measures and BIS officials are in contact with the company to ensure that everything possible is done to help those affected.
"The Skills and Jobs Retention Group is also ready to help the small number of skilled engineers affected by today's announcement."