Royal Marines train in Mojave Desert in California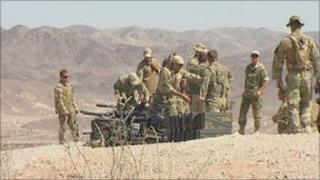 It is 120 degrees in the Mojave Desert in California with no place to hide - and for the past three weeks it has been home to the Royal Marines.
About 550 men from 40 Commando, more usually based in Taunton, have been taking part in a training exercise which has tested them to their physical limits.
But the heat, the sand and the challenging terrain are all perfect reasons to be in the Mojave Desert.
It is a place which mirrors Afghanistan where 40 Commando will be in a year's time.
The unit's previous tour last year saw the deaths of 14 of their number. Many more were injured.
Vast surroundings
In the Mojave Desert a lot of the faces were new recruits - about half would not have seen anything like this before. For them in particular, Exercise Black Alligator has proved invaluable.
And while the Royal Marines were keen to stress it was not entirely about preparation for Afghanistan, many of the training scenarios were directly aimed at preparing them for what lies ahead next autumn.
The Commanding Officer of 40 Commando, Lt Col Matthew Jackson, said: "To come here enables us to conduct training which would be almost impossible to do back home.
"It has given us an opportunity to test a wide range of live weaponry in vast surroundings and we have been able to work closely with our American colleagues in really testing conditions."
The American Marine Corps Combat Training Centre in 29 Palms, California, is vast.
It swallows up 930 square miles of the Mojave Desert - you could fit six Salisbury Plains into it.
The combat training facilities are unique. The Americans have built a full-size Afghan "city" complete with fake hotels, homes and mosques.
During exercises they even bring in Afghan nationals to set up shops and market stalls to add "cultural realism".
It is where Somerset's Royal Marines have been practising urban combat - essentially close-quarter fighting in built-up areas.
They have been working alongside United States Marines, sharing experiences, swapping tactical ideas, learning from one another and occasionally showing up differences in fighting styles.
It is frighteningly realistic; the surroundings, the intense heat and the unforgiving desert backdrop all provide a perfect foretaste of Afghanistan.
For three hours I watched 40 Commando's Charlie Company taking part in Urban Combat Training. Of their 50 men there were only a handful who had been to Afghanistan before. The majority were new recruits.
"The company is made up of a lot of new young lads but these are not ordinary lads," said instructor Cpl Matt Drake.
"These are fit, intelligent guys who are keen to learn. At the end of the day they are Royal Marine Commandos and I have every confidence in them. They have performed really well today."
A couple of miles away, in another corner of the desert training centre, Royal Marine snipers with live ammunition were honing their skills, hitting small wooden targets a kilometre away.
In a real situation it could well be an insurgent planting an explosive device aimed at killing western forces.
Somehow it hammers home just how brutally real this all is. Young men preparing for a job like no other.
A full report featuring 40 Commando in the Mojave Desert will be broadcast on BBC Points West on BBC One at 18:30 BST on Thursday 6 and Friday 7 October.