Frome Hoard goes on display at Museum of Somerset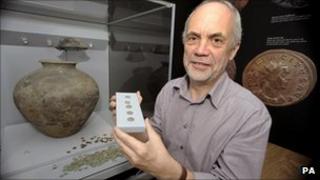 The largest ever collection of Roman coins found in Britain in a single container has gone on display in Taunton, Somerset.
The 52,503 silver and copper alloy coins, known as the Frome Hoard, are on show at the Museum of Somerset.
The coins, which date back to 3 AD, were found in Frome last April by Wiltshire metal-detector enthusiast Dave Crisp.
The museum opened on Thursday following a £7m revamp.
In March it announced it had raised more than £320,000 to keep the coins, which were declared treasure by a coroner, following fears they would go to a private collection.
'Votive offering'
Stephen Minnitt, Somerset County Council's head of museums, said it was a coup for the museum to obtain the "highly important find".
"The reason it was buried remains something of a mystery," he said.
"Usually you tend to think of coin hoards being buried for safety in the times before there were banks, which more often than not is the case.
"Those that are found today are the ones that were not recovered, presumably because the person that owned them, for whatever reason, had some sort of misfortune and didn't pick them up.
"In this case, though, the volume of coins in this very rounded pot - they weigh 160kg (353lb) - has led to the suggestion that they may well represent a votive offering of some sort.
"Precisely what we don't know, but that's the thinking at the present time."
Other displays at the museum include the Low Ham mosaic, described as one of the country's finest surviving Roman mosaics.
The museum will also display the Shapwick Hoard of 9,238 silver coins - the largest hoard of Roman silver coins found in Britain - and a shrunken head from South America.