Bath's £14m bus station criticised by transport campaigner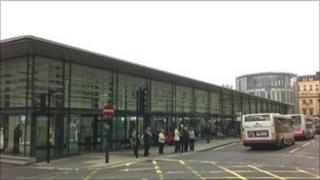 A transport campaigner has criticised Bath's bus station - built two years ago at a cost of £14m.
David Redgewell said remote-controlled doors leading to bus stands were not working properly and other automatic doors were being problematic.
Bus operator First Group said it was aware of some of the issues regarding Bath bus station.
A spokeswoman said the company hoped to find a permanent solution to the problems "as soon as possible".
Mr Redgewell said doors between the bus station and where the vehicles are parked are supposed to be operated by drivers using a remote control.
First Group said there had been intermittent problems with the doors and their remote control mechanism, which are designed to prevent passengers coming out into the bus bays before the buses are ready.
'Alternative solution'
"However the company that supplies the remote control element has gone into administration making the process of fixing the problem much harder," a First Group spokeswoman said.
She added that the company was looking at an alternative solution and costs were being considered for that at present.
"Regarding doors to the street... there have been issues [with electronic sensors] with them being somewhat temperamental," she added.
"We're considering the long-term solution to that too, but are working with the suppliers to fix this."