Somerset £630,000 cycle route opened by Michael Eavis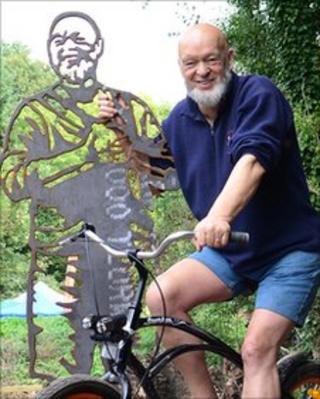 Glastonbury Festival boss Michael Eavis has officially opened a cycle route linking together two Somerset towns.
The pathway is part of the Five Arches Project and links Radstock and Midsomer Norton using a disused railway line.
Mr Eavis, who opened the route on Saturday, remembers the railway working and said it was "great" that people would once again be able to use it.
The four-year £630,000 project has been led by the cycling charity Sustrans.
Eugene Kertzman, who led the Five Arches steering group said: "This is a proud moment for all the people who have long campaigned for this former railway line to once again be put into use."
The new route will also include new crossings of Somervale Road and Charlton Road, making it safer for pupils to walk to Norton Hill School.
Mr Eavis has been immortalised in steel on the route, featuring in a portrait bench alongside a lifesize portrait of Katy Curd, a nationally recognised BMXer - both characters chosen by the local community.