Glastonbury mayor says trinkets damaging Holy Thorn tree shoots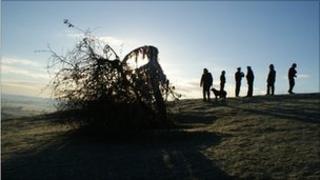 Coins, marbles and crystals being placed in the damaged trunk of the Holy Thorn in Glastonbury are preventing the shoots of the tree growing properly, the town's mayor says.
The Mayor of Glastonbury, John Cole, said visitors to the tree were causing "enormous damage" to it.
The tree on Wearyall Hill has religious and historic significance.
Vandals cut off its branches in December 2010 but shoots began to grow from the trunk.
The Holy Thorn grew from a cutting of a tree said to have been planted by Joseph of Arimathea 2,000 years ago.
'Life there'
It is believed monks from Glastonbury Abbey took care of the original Holy Thorn and took cuttings to preserve the tree.
Mr Cole said: "People keep going up there and pulling shoots off. They're not only damaging them - they are putting objects in the trunk such as coins, marbles, crystals so it's doing enormous damage all the time.
In addition to the trinkets, Mr Cole said people were placing ribbons on the protective metal fencing which prevented sunlight from reaching the trunk.
"There is still life there but the thorn is quite old now, as the life of the thorn is about 60 to 80 years."
The vandalised tree on Wearyall Hill was planted in 1951 to celebrate the Festival of Britain.
Plans are in place to plant a new tree grown from cuttings at Kew Gardens, with a more substantial guard for better protection and also to put up a CCTV camera.
The damaged tree will remain.