Works begins on Jesse Window at Wells Cathedral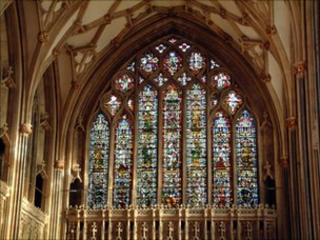 Work is set to begin on a £500,000 project to restore an historic 14th Century window at Wells Cathedral.
The Jesse Window is a stained glass window depicting the genealogy of Jesus dating back to Abraham.
Conservation work is set to begin on 29 September and will involve releading selected areas of glass and cleaning the paint layers.
In 2010 custom-made barriers of glazing panes were attached to the stonework of the cathedral to protect the window.
'Bulging and loose'
The window is situated at the east end of the cathedral and dates to about 1340.
The cathedral's dean, the Very Reverend John Clarke, said: "Recent inspections have shown that some of the lead is bowing.
"Lead glass panels are bulging and loose. More significantly the medieval glass is suffering the effects of condensation and mould growth.
"This is in turn attacking the painted layers on the glass causing the paint to peel and the glass to corrode."
The window was made using yellow, red and green glass as well as silver stain, a compound of silver applied to the glass which can create hues of pale yellow to deep orange.