David Hoskins death: Inquest told of pylon climb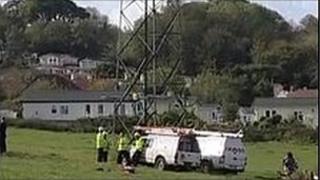 An inquest has opened into the death of a teenager who was electrocuted after climbing a 33,000-volt electricity pylon in Weston-super-Mare.
David Hoskins, 19, from Yatton, escaped from a psychiatric unit close to Weston General Hospital two years ago.
He died six weeks later at Frenchay Hospital in Bristol. Post-mortem tests found he suffered 60% burns.
Witnesses at the time reported seeing a "blue thunderbolt" and hearing a buzzing noise.
Mr Hoskins' mother, Susan, who represented herself during the inquest, said her son was "an amazing person to know".
She added that he was very popular at school but he started to change aged 17, when his behaviour became "increasingly bizarre and unexplained".
Promising student
Mr Hoskins had been a promising student and wanted to go to university after completing his A-levels, but in 2007 he was diagnosed with bipolar disorder.
Mrs Hoskins said that due to deterioration in her son's behaviour she had, in September 2008, asked him to leave home.
He moved into supported accommodation in Clevedon but, she added, that by March 2009 he had dropped out from college, insisted he was not bipolar and had also stopped taking his medication.
The inquest in North Somerset heard that cannabis was a factor in Mr Hoskins' condition and that the teenager also confessed to mental health workers that he took cocaine, ecstasy and ketamine.
Live power cables
Mr Hoskins was sectioned under the Mental Health Act in September 2009.
The jury heard how on the morning of the incident, on 21 October 2009, Mr Hoskins managed to jump a 3ft fence in the psychiatric ward's garden.
He ran to the field opposite the hospital and climbed 65ft up the tower, overcoming anti-climb safety measures, and made contact with the live power cables.
He died six weeks later, after suffering burns to over two-thirds of his body. He also had his left arm amputated during his treatment.
The Long Fox Unit from which Mr Hoskins escaped from is run by Avon and Wiltshire Mental Health Partnership NHS Trust.
The inquest, led by coroner Maria Voisin, is due to last two days.