Cricket St Thomas wildlife park fans peeved by signs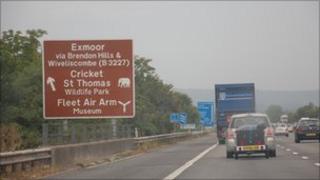 Families hoping to visit a wildlife park in Somerset are turning up at a hotel because of outdated road signs.
Cricket St Thomas Lakes and Gardens hotel resort near Chard used to be home to hundreds of animals and birds.
But while the wildlife park closed in 2009, signs directing motorists to the location have not been removed.
The Highways Agency, which is responsible for the distinctive brown road signs, said it was working with the firm to resolve the issue.
Staff at the hotel resort said they regularly have to deal with angry tourists searching for the animal park.
Despite a request from the resort owners, the signs along the A303 and M5 have not been taken down by the Highways Agency.
A spokeswoman for the Highways Agency said: "We have been made aware that Cricket St Thomas Lakes and Gardens is no longer a wildlife park and our agents have met with representatives from the resort to discuss possible future signing, as new signs have been requested."
The spokeswoman also said the sign advertised other attractions, so the immediate removal was "not necessarily practical and would incur additional cost", but once discussions were completed new signs would be installed.
'Official complaints'
Manager of the Cricket St Thomas Lakes and Gardens, Ian Gyte, said: "We've now had two official complaints from the trading standards where people don't understand and think we're not doing anything about it and I've had to inform them of the processes we're going through.
"Fortunately they [trading standards] understand and appreciate we've done everything within our power, but unfortunately that doesn't help our visitors."
The Cricket St Thomas animal park used to be home to camels, lemurs and primates.
Mr Gyte added: "We still get a number of people that turn up - obviously we've changed our promotional literature and our website but there's still people who rely on those signs or come on an impulse visit where they've been to the area before.
"They do get quite annoyed with my staff at reception or they call me and say they were misled."
Brown signs along the A358 between Taunton and Ilminster have been removed - but that stretch is under the management of Somerset County Council's Highways department.