TS Eliot village East Coker bids for World Heritage status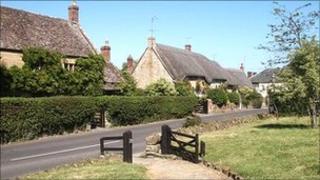 A Somerset village made famous by poet TS Eliot is bidding for World Heritage status to stop a proposed nearby development.
East Coker, near Yeovil, was named in Eliot's famous Four Quartets poem and his ashes are buried in the churchyard.
Now campaigners, including former poet laureate Sir Andrew Motion, are seeking special status on land around the village earmarked for 3,700 homes.
South Somerset council said there were no plans to develop East Coker village.
It said it was looking at land to the south of Yeovil, which would not significantly impact on East Coker.
'Concern and outrage'
Martin Sowerbutts, secretary of the East Coker Preservation Trust, said the cultural heritage of East Coker and its surrounding landscape "is outstanding by any measure", and there was huge concern about the "eco-town" development.
"The land surrounding East Coker is the landscape that Eliot wrote about and was particularly descriptive about it," he said.
"So there's an enormous amount of concern and outrage in the parish that South Somerset District Council want to build here."
Eliot was born in St Louis, Missouri, US, but later moved to the UK.
On his death in 1965, his ashes were taken to East Coker - on his instructions - to the village from which his ancestors had emigrated to America in the 17th Century.
"We've had a great deal of interest from academics and the response, particularly from America, has been enormous," added Mr Sowerbutts.
"They can't understand what's going on because they recognise the importance of the heritage of the area."
In a statement, Ric Pallister, leader of the Liberal Democrat-run South Somerset District Council, said it was "very definitely not in our interests to destroy East Coker or its setting".
It added: "The proposals, which are still a work in progress in themselves, so far suggest that the general area to the south of Yeovil could be the best direction for growth, but there are no proposals to develop East Coker village.
Roman villa
"We are seeking to plan growth in the least detrimental way possible and that includes protecting our villages and their distinctiveness.
"We believe it is possible to do this without significantly impacting on East Coker."
As well as its links to the poet, the village is also the birthplace of William Dampier, the first European to set foot in Australia.
A Roman villa and a fort are also buried under the farmland surrounding the village.
The campaign is also supported by well-known resident Trevor Peacock, who starred as bumbling church councillor Jim in the Vicar of Dibley.
According to UNESCO, the East Coker bid for heritage status can only succeed with backing from the government.
There are currently 11 sites in the UK, including the Lake District, the Slate Industry of North Wales and the Forth Rail Bridge, on the shortlist of candidates bidding for World Heritage status.