Hinkley workers' housing needs being met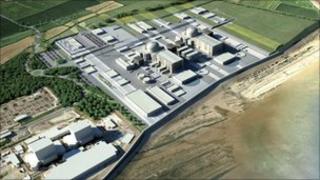 About 1,250 rooms in private homes have been added to a housing register in readiness for workers if a new nuclear power station is built in Somerset.
The register has been set up by the energy firm EDF which is proposing to build the power station at Hinkley Point.
The private rooms are in addition to hoteliers, guest house and static caravan owners also keen to house them.
About 5,600 workers would be employed during peak construction of the build.
A dedicated accommodation office has been set up by EDF Energy to direct workers.
EDF's accommodation office manager Dawn Hartley said: "We're particularly pleased to see those offering rooms which have previously not been let."
Depending on the construction contracts handed out to workers, their housing needs could be on a short or long term basis.
Campus accommodation is also being proposed at three sites as part of EDF Energy's proposals to build the new nuclear power station.
In July, a planning application for site preparation works was approved by West Somerset Council, which has been seen by EDF Energy as a major step forward in the project.
Later in the year the Infrastructure Planning Commission, an independent body, will decide whether to grant overall planning permission for the nuclear power station.