Guerrilla gardeners target housing estate in Somerset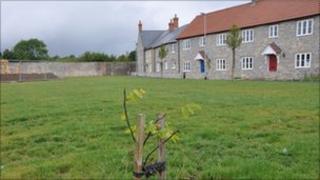 A group of self-professed "guerrilla gardeners" have planted trees in a new housing estate in Somerset.
They have been sneaking into new developments in the east of the county to plant trees in areas which they believe would otherwise be an eyesore.
A guerrilla gardener, who did not want to be named, said: "Trees should be at the centre of our communities rather than these boring lawns with no value."
South Somerset District Council said no-one was available to comment.
'Development priority'
The environmentalists have said they tried the official channels asking for trees to be included in the new development but they failed to do so.
The guerrilla gardeners said they planted the trees at dusk wearing high-visibility jackets.
The gardener said: "Development is taking priority over landscaping and unfortunately for developers it's costing - they have to pay for the trees and how to look after them in the future through using taxpayers' money."
In the past, the group has planted trees in community projects such as allotments, with public consultation.
According to the law, planting trees without permission is trespass and is therefore a civil issue.
In such cases the landowner could sue or apply for an injunction to prevent further tree planting.
However, if the trees are planted within 15ft of the centre of a highway it is a criminal offence and the highways authority can serve a notice on the people responsible.