Bridgwater bypass support grows for Hinkley traffic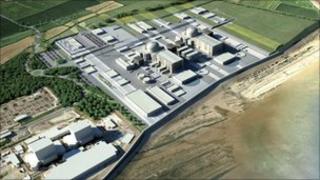 EDF Energy is being urged to consider including a Bridgwater Northern bypass as part of its transport plans for a new nuclear power station at Hinkley.
Sedgemoor District Council wants more studies carried out before the plans are submitted to an independent body.
The company said it had reviewed the idea but ruled it out for environmental reasons and the length of time it would take to construct.
In July, the county council also called for EDF to consider the bypass.
'Highway improvements'
In a meeting on Wednesday, the district council's scrutiny committee asked EDF for a traffic proposal which was "robustly and comprehensively assessed" for a bypass which it believed would reduce congestion in the town.
The district council will submit its views on the local impact of the project to the Infrastructure Planning Commission (IPC).
The IPC is an independent body which decides on nationally significant projects.
EDF said it is against building a new bypass and would prefer to improve 12 junctions with traffic lights and road widening schemes in the town to cope with the increased traffic which it believed is the "right choice".
The commission will also hear from other local statutory bodies such as the county council and the police before it decides whether to grant EDF Energy planning permission.
In July, Bridgwater MP (Conservative), Ian Liddle-Grainger, backed a 1,400 strong petition which called on the government not to allow EDF planning permission unless it promised to construct a northern bypass for Bridgwater from Junction 23 of the M5 to connect with the A39 west of Cannington.