AgustaWestland money will secure Yeovil helicopter jobs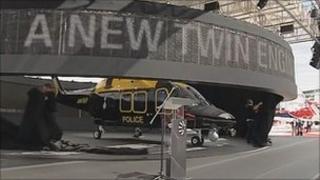 AgustaWestland is to be given a £32m grant by the government which will safeguard jobs at its Yeovil factory.
Business Secretary Vince Cable made the announcement as the new AW169 helicopter, aimed at the commercial market, was unveiled.
He said: "It's a valuable exercise because we're helping an industry convert from military to civilian application."
It is hoped the money will secure jobs and create 100 more in the future.
'Proper processes'
The public funding will be used to pay for research and development and support small firms in AgustaWestland's supply chain.
The AW169, which is expected to enter service in 2014, marks the firm's first investment in the growing commercial market.
The company is better known for building military helicopters such as the Lynx.
Although the grant £32m will come from the taxpayer, a proportion of this will be a loan.
Liberal Democrat Mr Cable has said the investment does not breach European guidelines on supporting private enterprise.
"There isn't a great deal of money for the government to splash around, we're on a tight budget, but we've had a complex proper process.
"There is absolutely no breach of any guidelines, this has been through all of the proper processes."