Bath Rugby Club: Public support for Rec redevelopment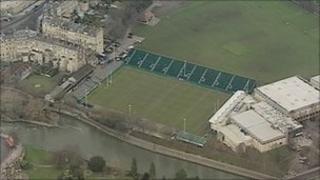 A consultation into the future of Bath's Recreation Ground has shown the majority of respondents agree with proposals to redevelop the ground.
Bath Rugby Club wants to move the pitch about 40m to rebuild the riverside stand. Land the club owns at Lambridge will be returned to the city.
More than 4,500 people took part with 3,866 supportive of the plans.
A full report is due to be presented to the trustees of the Recreation Ground Trust on 7 July.
Chief Executive of Bath Rugby, Nick Blofeld, said he was "delighted with the level of support" and said it was "excellent news for the club".
"We now need to start working up some ideas of what would work best for the city and the club, beginning with a public consultation process that will shape what hopefully becomes a planning application in the next few months."
The trust, a registered charity, owns the part of the ground which Bath Rugby Club plays on, together with a large area behind it which is used for activities such as tennis, cricket and croquet.
Any plans by the rugby club to shift the ground would need to be put before the Charity Commission.
The trust is due to meet the commission and propose:
Amending the trust's objects to include indoor activities
Permitting the grant of a new lease to Bath Rugby
Enabling the trust to acquire Lambridge for beneficiaries' use
If the commission agrees the plans are in the best interests of the trust, then a planning application will be submitted to Bath and North East Somerset Council.
The area currently occupied by the rugby club takes up just over a quarter of the total space at the Rec.
Previous plans by the club to redevelop the ground were turned down by the Charity Commission in 2009.
The commission said at the time there were not sufficient benefits to the charity, but that it was open to accepting a revised proposal.