Lib Dem MP Tessa Munt begins pylon campaign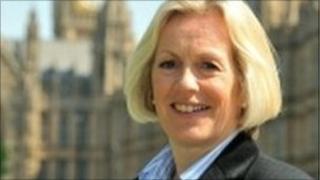 The Lib Dem MP for Wells has described damage to the countryside caused by pylons as "beyond belief" in a bill put forward in the House of Commons.
She has called for underground or undersea cabling to be considered as a viable alternative.
The National Grid wants to erect pylons between Hinkley Point and Avonmouth but opponents say they should go under the Bristol Channel.
The debate, called under a Ten Minute Rule Motion, took place on Tuesday.
She said: "I draw attention particularly to the 26,000 people whose livelihoods are dependent on tourism in my constituency of Wells, just one of many, which would be damaged beyond belief if new lines of 150ft pylons were introduced."
She said new pylons were also a problem for people in other rural parts of the country.
Paul Hipwell from No Moor Pylons, has also been campaigning against the issue.
"It is a worry, but you can't be sure this bill will go through although the whole groundswell is going in the right direction," he said.
He was referring to a government announcement supporting a set of principles known as the Holford Rules.
These were first proposed in 1959 and state that electricity pylons should not be erected in the countryside if it can be avoided.