Road safety campaign hope for Amy Hofmeister's mother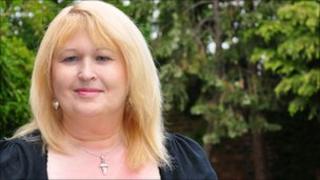 The mother of a 13-year-old girl killed on her bicycle by an unlicensed motorist has spoken of her wish to start a campaign to promote road safety.
Amy Hofmeister was killed on 15 June in Taunton, Somerset, when she was hit by a car driven by 41-year-old Leonard Jones.
At crown court, Jones, 41, from Mulberry Close, Taunton, admitted causing Amy's death by dangerous driving, and driving with no licence and no insurance.
He has yet to be sentenced.
Amy's mother Jane Hofmeister now wants to run a campaign to raise awareness about traffic safety.
She spoke about her daughter's life ahead of what would have been her 14th birthday on Saturday.
"She truly was my best friend in life, my little mate, so full of life. When she was a little girl she didn't walk anywhere, she skipped and smiled and laughed and cuddled everybody.
"She loved her make-up. I used to work at Body Shop and used to have a make-up kit for home parties, but do I have any make-up left? No, it all disappeared into her room."
For her birthday, her mother had organised a make over day which included a manicure, spray tan and haircut followed by a restaurant meal.
"She was so looking forward to that, she was getting to that age of how girls like to dress up. She was totally into her music replaying songs over and over again on YouTube."
Although emergency services arrived within minutes of the accident, they could not save her. Her mother waited in the resuscitation room while doctors operated on her.
"I focussed, I tried to imagine a white light around her, I was praying to Archangel Michael, I said, 'I know that miracles can happen, I know they have happened in the past. I need a miracle, I need one now'.
"But for whatever reason, he needed her more. At 8.30 the doctors looked at me and said, 'please, it's been an hour, we haven't had a heart beat'.
"It was only when I saw with own eyes the flat line on the heart monitor and when they said they hadn't had a single heart beat from the moment she arrived, that I said 'let her go', but she had already gone."
Since her daughter's death, Mrs Hofmeister said she and her son Benjamin had received a lot of support from the local community.
So far there have been more than 6,000 tributes on a Facebook page set up in her memory and flowers have also been laid where she died.
"We've just been surrounded by this love and comfort, it's Taunton's grief, it's Somerset's grief, not just mine. She really was a special little girl, she's touched everybody's hearts.
"The more I hear about Amy's life, her antics from her friends, what other people have experienced with Amy; she was great."
Commenting on what she expects from the sentencing judge, Mrs Hofmeister said she and her son "had been given a life sentence" by his actions.
"He had no right to be behind the wheel, he drove dangerously, I want the sentence to fit the crime."
Now Mrs Hofmeister hopes to repay the kindness shown to her family by the community and devote her energies to raising awareness of traffic safety.
"I've never done anything like this before I so need to take stock of everything and campaign in the right way and give it 100%."