School visit for crew of US space shuttle Discovery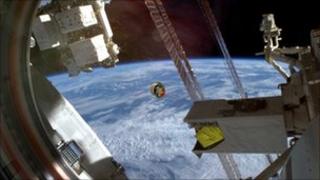 The astronauts from the final flight of the US space shuttle Discovery have visited a school in Somerset.
The Nasa crew spoke to pupils at Millfield School in Street about their mission and of the use of science and mathematics in space exploration.
Crew member Nicole Stott, who is the wife of former Millfield pupil Chris Stott, flew with an Old Millfieldian tie pin on the mission.
The pupils were also able to watch a video of the pin floating in space.
"It's an amazing opportunity for the pupils," said head of science Craig Middleton.
"They're really excited, the pupils have got 101 questions for them as you can imagine and there's a real buzz about the place at the moment.
"We're really fortunate that they're going to give up their time while they're over here to come and speak to the pupils at the school."
Mr Middleton said the crew did not arrive in a shuttle but a minibus. However they put on their blue flight suits for their presentation.
He said the crew had been allowed to take mementoes up into space and Mrs Stott had taken the school tie pin, which she returned during the visit along with pictures of it floating in space.
The 39th and final flight of Discovery STS-133, launched on 24 February and lasted 12 days.
The five-person crew's mission was to complete the construction of the International Space Station and deliver equipment and supplies.