Weston General Hospital gets new breast cancer scanner after appeal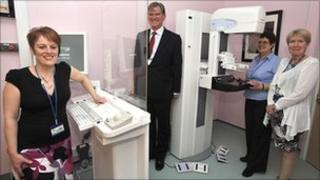 A new £225,000 breast scanner has been installed at Weston General Hospital in a bid to make cancer detection as "quick and easy as possible."
The hospital's Diamond Appeal began in July 2008 and has been raising money for the digital equipment ever since.
The new scanner uses low dose X-rays to gain high-quality images of breast tissue and is the most effective tool for early breast cancer detection.
The hospital has been providing breast cancer screening for 15 years.
Younger women
"We always have had a breast scanner at Weston General Hospital but a digital breast scanner brings so much more benefits to the patients," said Alison Kingscott, chairman of the Diamond Appeal.
"It improves the image quality, patients can be seen more quickly, [and] it reduces the number of times that patients have to be recalled because of the quality of the scan.
"Also it's very useful for examining the type of breast tissue typically found in younger women."
The Diamond Appeal was launched three years ago to coincide with the 60th anniversary of the NHS.
Amongst the companies, organisations and individuals who have raised money, the hospital's League of Friends donated £50,000 to the cause.
"We've done lots of very funny things like snail racing, rock 'n' roll night, bed pushes," added Mrs Kingscott.