Somerset coroner concern at A370 East Brent speed camera removal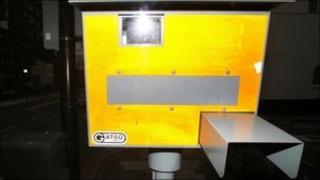 A Somerset coroner has said the turning off of a speed camera was a significant factor in a fatal car crash.
In a letter to the county council, West Somerset coroner Michael Rose said the death of 19-year-old Billy Davis "in part may have been prevented".
Mr Davis died on the A370 at East Brent in September 2010 near a camera which had been disabled weeks earlier.
The council said it would urge police to focus mobile cameras at sites where there had been casualties.
An inquest found Mr Davis had been one-and-a-half times over the drink-drive limit when he died and had been driving at speeds between 60mph to 70mph in a 40mph area.
Mr Rose said he also believed the removal of a speed camera may have played a part in the death of Damian Witcombe, who died in a crash in Chilcompton in May.
Some local residents said they believed that cutting the camera - which was removed in May 2010 - had contributed to dangerous driving in the area.
"It's a wide, fairly straight road, [with] just a couple of bends," said safety campaigner Marlene Pickford, who is also the chair of the Chilcompton Parish Council.
"We had two Gatso cameras which we've had for many years, which really did slow down the traffic.
"It was when the one by the village hall and the school was taken away last year that residents saw that speeds began to increase and they've gone on increasing ever since."
'More casualties'
Clare Brixey's 20-year-old son Ashley died when the car he was travelling in crashed in 2004.
Ms Brixey, from Standerwick, near Frome, said: "It's inevitable that deaths on our roads are going to increase without them.
"People do show speed cameras a lot of respect because they don't want the points and they don't want the fines.
"Without them they are not slowing down, in fact a lot of them are speeding up, so it's obvious that we're going to create more casualties and more fatalities on our roads because of it."
Somerset County Council said in a statement it had passed Mr Rose's letter on to the police because it said enforcement cameras were "no longer" within its control.
"The police are solely responsible for camera enforcement across the county," the statement said.
"We will be urging police to focus their mobile camera enforcement on road casualty sites."
The council used to help pay for the partnership which operated the cameras.
But the cameras were turned off in March after the council removed funding.
Avon and Somerset Constabulary said the issue of turning on fixed cameras would have to be decided by the county council.
A spokesperson added: "The offer to process the ticketing from fixed cameras still stands."