Priddy Circles damage investigated by English Heritage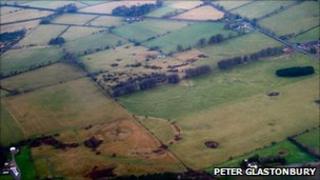 English Heritage has said it is investigating damage to a prehistoric monument in a field in Somerset.
Archaeologists are assessing the harm to a section of the Priddy Circles, a series of four large earthwork enclosures, on the Mendip plateau.
"It is a criminal offence to intentionally or recklessly destroy or damage a scheduled monument without lawful excuse," English Heritage said.
The circles come under the 1979 Ancient Monuments and Archaeological Areas Act.
'Criminal offence'
The spokesman for English Heritage added: "We are aware of damage to the Priddy Circles in Somerset - a series of four large Neolithic henge monuments.
"We are currently investigating the matter which includes an assessment of the harm caused to the monument through an archaeological assessment.
"It is also a criminal offence to carry out works to a scheduled monument without scheduled monument consent from the Secretary of State."
A spokesman for Somerset County Council said: "Priddy Circles are one of the most important prehistoric monuments in Somerset and they were constructed approximately 5,000 years ago.
"New research has now shown, however, that the monuments at Priddy pre-date the construction and use of henges and, as such, have few parallels in the UK. Among these parallels is the first phase of Stonehenge."
The council said it was working together with English Heritage on the investigation into the matter.