Chinese lantern blamed for Somerton fire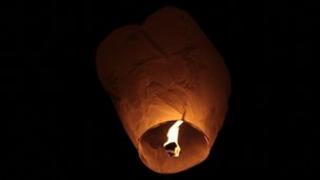 A Chinese lantern has been blamed for sparking a large fire at an industrial estate in Somerset.
Firefighters were called to the Polham Lane site in Somerton after a tonne of paper and printer cartridges caught fire on Saturday night.
A spokesman from Devon and Somerset Fire and Rescue Service said the lantern had fallen on to the paper.
Devon and Somerset Fire and Rescue Service had issued a warning about the use of lanterns only the day before.
The paper decorations, which can float up to a mile into the air when they are lit, are often constructed with metal wire.
They have become a popular feature at parties and weddings.
Following the Somerton fire, Devon and Somerset Fire and Rescue Service station commander Jim Morrison said: "Without sounding like a killjoy, we would ask people to consider not buying and setting them off because of the dangers.
"Although they look pretty they will often fail and come down early whilst the fuel for the lantern itself is still burning."
Coincidentally, Devon and Somerset Fire and Rescue Service had issued a warning about Chinese lanterns only the day before the incident.
Cattle died
The statement said the novelties - also called sky lanterns - could harm animals and the environment and added that the service believed the risk of launching them "far outweighs the benefits".
The National Farmers Union has had "numerous reports" of harm caused to livestock by lanterns, it said.
In some cases, cattle have died after eating metal wires from the frames.
The statement concludes: "If the lantern does start a fire there is the possibility that you could be held responsible."
Lantern ban
Concerns have also been raised by RNLI, which has reported a large increase in the number of call-outs after the lights from lanterns were mistaken for distress flares.
East Midlands and Manchester airports have warned against launching Chinese lanterns beneath its flight paths, claiming they could get sucked into plane engines.
Austria and Germany have banned the lanterns but there are no restrictions in force in Britain, although the Civil Aviation Authority (CAA) has issued guidelines on their use.
Although no planes have been brought down, the CAA says the lanterns could potentially be ingested into plane engines and can fall on to airport runways.