Somerset willow 'cathedral' to be officially unveiled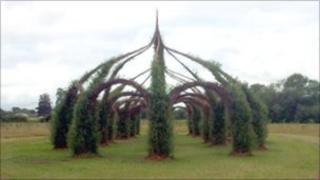 A willow "cathedral" is to be officially unveiled in Somerset.
The 8m (26ft) high structure, located at Longrun Meadows in Taunton, will be used for public gatherings such as picnics, performances and celebrations.
Co-creator Stefan Jennings said the living sculpture had been a "serious test" due to its size and the nature of the materials used.
It is part of Project Taunton - a regeneration of the town centre.
Mr Jennings began working on the Somerset willow installation with Sophie Courtiour more than a year ago.
An event celebrating the completion of the cathedral involving music, dancing, willow weaving and art will take place on 24 June.