Devon and Somerset fire crews to train in animal rescue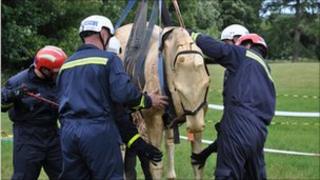 A new animal rescue training programme has begun for firefighters in Devon and Somerset to reduce operational costs.
In the past three years, Devon and Somerset Fire and Rescue Service has spent £561,000 in rescuing animals, the second highest in the country.
The fire service has said the training is needed as its crews have become less used to dealing with animals.
The Taxpayer's Alliance, which lobbies for lower taxes, has said animals should be rescued by animal charities.
The programme will see training given on how to use specialist equipment such as harnesses to safely capture and move large animals ensuring they are not distressed.
Rescue instructor, Neil Giddings, said: "In the past we have relied on there being an inherent level of knowledge in the crew, the part-time guys often working in farms or the livestock industry.
"We're finding with the decline in those sorts of rural jobs those people aren't out there anymore so we've lost the skill we would have had 20 years ago."
Spokesman from the Taxpayers Alliance John O' Connell said: "There are other organisations, like animal charities, who could be used to a far greater extent rather than implementing expensive training programmes, it's about getting a sense of proportion and make sure not they're not wasting money."
Local charities said they were already stretched and would not have the necessary equipment, time or resources to deal with such emergencies.