Somerset County Council pays £1m 'sweeteners' in farm sell-off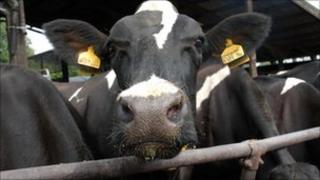 Nearly £1m has been spent by Somerset County Council compensating farmers during a planned farm sell-off.
So far, £660,000 has been spent by the authority on paying farmers who are leaving tenancy agreements early - this will rise to £925,000 by March.
The council decided in June 2010 to review ownership of all its farms - previously some had been protected.
It said it had raised £9.6m selling off 18 farms and other land and property in the last two years.
The Tory-controlled county council will use the money to fund major building works and to install superfast broadband in the county.
Scepticism
However many farmers are sceptical about the figures.
"They told you they'd sold 18 farms - they haven't sold one yet on the change of policy," said Ben Smith, a tenant farmer near Ilminster.
"The 18 farms that have been sold were previous to the policy and that was under the Liberal Democrats, and that is going back seven years.
"It's terrible. Nobody knows where they're going, nobody knows what's happening."
Only farmers who are on longer-term contracts are being offered the compensation.
'No guarantees'
Farmer James Miller lives with his county farm tenant wife in Donyatt near Ilminster. They had their tenancy contract renewed in April for five years.
"Our farm, amongst others, I suspect are ones that have higher development potential in the longer term so there are strategically important but not necessarily right to sell at this minute.
"At the end of the five years it would be effectively reviewed again but there's no guarantees, a lot can happen in five years.
"The farm is now marked for development. We can't plan for the future. We would have to be mindful of looking for other opportunities but they are incredibly limited."
Tenant 'sweetener'
Michael Fry was a county farm tenant in Over Stowey for 20 years.
"It really is scraping the bottom of the barrel as far as the county council is concerned," he said.
"Here there are shouting out that they've got this huge black whole to fill and they need to sell the county farms to fill it.
"They've said they've got no money whatsoever and yet they can find up to £200,000 to buy back, in the form of a sweetener to tenants, and get vacant position of these farms."
'Services for all'
Conservative councillor David Huxtable is responsible for the sell-off.
"Our policy all along was to sell farms to the tenants. We were not in the business of dispossessing tenants," he said.
"We've been selling county farms ever since probably we bought them, back in the 20s or something.
"It was decided, I think fairly early on that farming is not a business that the county council should probably be in.
"It's a subsidy to a few people and we're trying to provide services for all.
"We are continuing with the policy and we will need the money to invest in the future."