Somerset's Nunney Castle targeted by vandals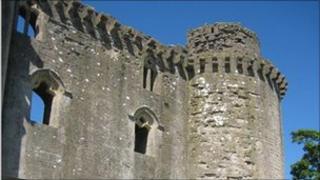 Vandals have removed more than 30 coping stones from the perimeter wall of a Somerset castle.
The 14th Century Nunney Castle was targeted in the past two days, the parish council said.
It is not known what happened to the stones, but it is thought they might have been thrown into the moat.
Parish councillor Jeremy Gaunt said that while a few stones had disappeared in the past, thefts had been nothing on this scale.
The French-style castle, built in 1373, is managed by English Heritage which does not charge an entry fee.
Councillor Gaunt condemned the vandalism.
"It's difficult to begin to describe how disappointed I am," he said
"We have a very small amount of money here which we try to use to the best of our ability to provide services for the community.
"This sort of vandalism just means that somebody, be it us or English heritage, have got to spend resources redoing things which in the grand scheme of things should not need redoing."