Eavis keeps Glastonbury control as daughter's baby due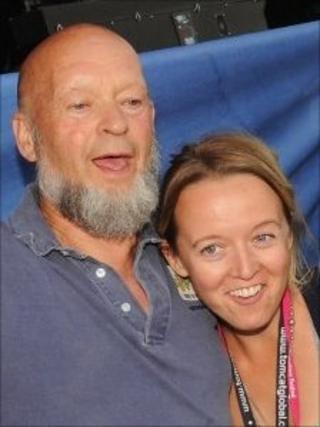 Glastonbury founder Michael Eavis has said he decided against handing the reins to daughter Emily for now, because she is starting a family.
Mr Eavis, 75, said: "I was going to step back and let Emily take over, but Emily got married and is having a baby, which is due at the weekend."
He said he thrived on the stress of running the festival which celebrated its 40th anniversary last year.
Last year Mr Eavis said he may have "another 10 years" left in him.
He said of his daughter: "She does a lot of the programming, a lot of choosing of bands.
"We argue about bands who should be headlining, but she's the ringleader in band selection and very, very bright.
"She's very good at programming and very good at ticking me off. We're a great working partnership, but she's not doing so much right now.
"She wants to keep me going as long as I'm willing and able so I'm still leading the field."
Mr Eavis added: "I do need the stress. It's like a drug to me.
"The more stress I get the better, and it makes me excited, it makes me think hard."
This year's three-day festival takes place from 24 to 26 June.
Headliners U2, Coldplay and Beyonce are set to play at Worthy Farm.