RNAS Yeovilton in Somerset gets new commanding officer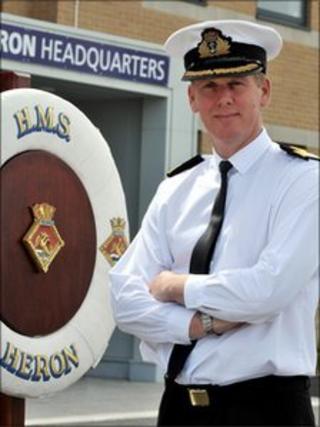 One of the busiest military air stations in the UK, RNAS Yeovilton in Somerset, has a new commanding officer.
Commodore Paul Chivers OBE, who was born in Bristol and educated at Wellington School, joined the Royal Navy in 1981.
A qualified Lynx helicopter pilot, he has taken part in two frontline tours in the South Atlantic.
He will take over the post, which changes ever two years, from Brigadier Mark Noble of the Royal Marines.
"I feel hugely privileged to return to the Fleet Air Arm as the commanding officer of this important air station," said Cmdr Chivers.
"There is no doubting that I am joining at a difficult time when the Royal Navy is going through a period of great change.
"I am fortunate to have great people who are united by a common purpose of delivering to the frontline at a time when it is needed the most."
'Fully supported'
RNAS Yeovilton, which has an annual budget of £17m, is home to the Royal Navy's Lynx helicopters and Royal Navy Commando Helicopter Force.
It operates more than 100 aircraft in four different categories and is manned by about 4,300 personnel.
It is one of two active Fleet Air Arm bases, the other being RNAS Culdrose near Helston in Cornwall.
"RNAS Yeovilton is a very busy air station delivering, amongst other things, highly trained and motivated men and women to the frontline," Cmdr Chivers said.
"Naval air squadrons from this air station are directly involved in all current operations and I will continue to ensure that they are fully supported."
The current HMS Heron, one of several Royal Navy ships to have been named after the wading bird, is currently based at RNAS Yeovilton.
And it was announced in March that a new £76m Lynx Wildcat helicopter training centre for the Ministry of Defence is to be built at the air station.