Farms sell-off raises £9.6m for Somerset County Council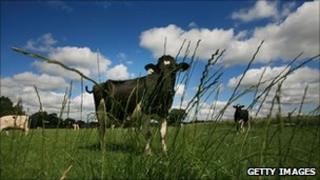 Farms and other properties owned by Somerset County Council have been sold off raising £9.6m.
The money will be used to fund major building works and to bring superfast broadband to the county.
Conservative councillor David Huxtable said the farms were heavily subsidised and helped a few people but superfast broadband would benefit more people.
Eighteen farms have been sold in the county so far and more are set to follow.
"There is more to come as we work with other councils to look to share buildings so we can free up more properties which we can sell off," Mr Huxtable said.
In 2010 the county council carried out a review of each of its 62 farms, where tenants were given the option to buy the farms they leased from the council.
The Tory-controlled county council had thought the sell-off of these farms could generate about £40m.
The council said it will not be able to use the money to fund public libraries, recycling centres or other support services because of financial regulations in place.