Somerset brain tumour boy's family launches charity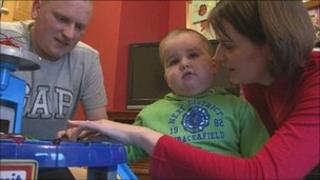 The family of a five-year-old Somerset boy who died of a brain tumour has launched a charity in his memory.
Ben Halford, from Coleford, lost his three-year battle against the illness last October.
The youngster's parents Neil and Nicky have called the charity 'Time is Precious' in tribute to Ben's avid interest in clocks.
The money raised will go towards providing equipment for young patients in the hospitals where he was treated.
"We've been through the journey of Ben being in hospital and we've seen the need for extra entertainment and equipment in hospitals to help other children and parents during their stay," said Mr Halford.
"Hopefully it'll make their lives a little bit easier in there. It's long days, long nights and not much to do.
"The hospital staff are great, but I think you need extra help to bring in iPads and things they can't afford just to make a difference."
Mrs Halford added: "We wanted to do something to keep Ben's memory alive.
"It's keeping me going, otherwise I don't know how I would cope. Ben was my life. He was 24/7."