Sudden adult death syndrome family walk to ease pain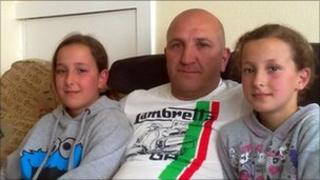 Sudden Adult Death Syndrome (SADS) claims the lives of more than 500 people a year in the UK - but how do those left behind cope with the sudden loss of a loved one?
When Derek Smith left to go to work, he had no idea his partner's life was about to end.
After all, Charlotte Rawlings - mother of twin babies - was just 39 and healthy.
Yet, only a short time after leaving her in their home in Crewkerne near Yeovil, Mr Smith was being given the most shocking news anyone can face.
He said: "I'd just left for work when I had a phone call to say I had to come back as Charlotte was ill.
"I'd left an hour before and she was ok."
When he got to the hospital he was told that she had died.
"It was a really, really bad time. It was just a tragedy. I couldn't get my head around it, I couldn't think straight.
"I walked away from there a broken man."
That was 10 years ago and to mark the anniversary, Mr Smith and their 11-year-old twins Poppy and Maisy are walking 125 miles (200km) to raise awareness.
The sponsored walk started on Monday where the couple went to school in Yeovil and finishes at Stamford Bridge, home to her beloved Chelsea FC.
People who die from SADS die instantly. If a person was standing up, by the time they hit the floor they will have died.
At the time of Ms Rawlings' death, doctors and nurses had no answers for the family about what had taken her life.
The family had to wait for an inquest six months later to find out the cause of her death - but even that provided little comfort.
"After the inquest I was even more confused. I went there expecting answers."
He said the hearing found she had died from SADS which was "like a cot death, when a healthy human just shuts down."
Although experts do not know exactly what causes SADS, it is believed that the heart somehow falls into a fatal heart rhythm.
"It's bizarre and an awful way to lose someone," he said.
"It's something that in this day and age we should be able to say why someone has passed away and not say it's sudden death syndrome - they should be able to say why the heart has shut down."
Since Ms Rawlings' death, Mr Smith found it difficult to cope.
"The days and weeks that followed, I was just numb.
"Having to become both mother and father all of a sudden was just alien to me.
"I had great support from family and friends that rallied around and dragged me through it."
The last couple of years has seen him marry a woman he met at his painting company, who has helped him manage his grief.
And now he is embarking on the sponsored trek not only in memory of Ms Rawlings, but also to raise money for Cardiac Risk in the Young (Cry), a charity which raises funds for research into the condition.
The charity's founder, Alison Cox, said: "Any death, particularly of a young person, is difficult to cope with.
'Can't make sense of it'
"But when there is no proper reason given, it becomes a complete nightmare for a family to understand.
"You can't make any sense of it and in fact if you read it (about SADS) in a book you'd say it's rubbish but we know it's happening at least 12 times a week, and that's a conservative estimate."
She said over the last 10 years, the amount of research being carried out into SADS had increased and that consultant cardiologists were particularly taking more interest.
"At some point we will get to the bottom of it," she said.