'Giant killer' film brings Hollywood names to Somerset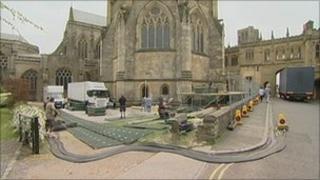 A star-studded Hollywood movie is being shot in Somerset.
Scenes from Jack the Giant Killer, featuring names such as Ewan McGregor, Bill Nighy and Eleanor Tomlinson, will be filmed at Wells cathedral.
A Warner Brothers crew will be in Wells, Cheddar and secret locations in the county for the next two weeks.
The adventure, directed by Bryan Singer, is a reworking of the classic story Jack and the Beanstalk.
It follows a farm boy who travels to the land of the giants to rescue a kidnapped princess.
Jack is played by Nicholas Hoult, who began his career in the film About a Boy, starring alongside Hugh Grant.
Wells has been host to film crews in the past, including Elizabeth: The Golden Age and Hot Fuzz.
A spokeswoman from Wells Film Centre said people in the area were getting used to films being shot there.
She added: "Lots of people are talking about the possibility of seeing Ewan McGregor though."