Holy Thorn sprig sent for royal wedding bridal bouquet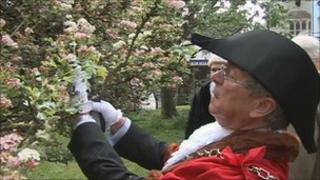 A sprig of the Holy Thorn in Glastonbury will be cut off and sent to London in the hope it will be used for Kate Middleton's bridal bouquet.
The mother of the bride accepted the offer from Liberal Democrat councillor Alan Gloak who e-mailed Clarence House.
Mayor of Glastonbury John Coles said: "We hope that it will be used in the bouquet or put on display in the wedding reception."
Each Christmas a sprig from the tree at St John's Church is sent to the Queen.
This tradition dates back more than 100 years where the sprig is displayed on her dining table.
Pupils from St John's Infant School and St Benedict's Junior School will also be there to witness the sprig cutting ceremony.
There are several Holy Thorn trees located around the town.