Brymore's ex-deputy head jailed for indecent assaults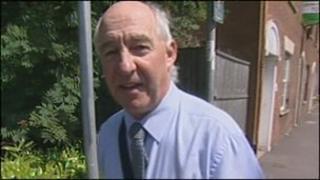 A former deputy head teacher nicknamed "touchy feely Walker" by students has been jailed for sex offences against his pupils.
Philip Walker, 61, from Cannington, was jailed for four-and-a-half years after he admitted 14 charges of indecently assaulting children.
Bristol Crown Court heard how pupils did complain but his offences were covered up by those in authority.
Judge David Ticehurst said he was a "dangerous and devious man".
He added that Walker was a "disgrace to the teaching profession".
In March Walker pleaded guilty to 12 charges of indecent assault on a girl under 14 years and two charges of indecent assault on a boy under the age of 16 years.
The offences were committed against seven pupils - two aged under 13 - and the rest older.
The assaults happened between 1978 and 1996.
The Somerset schools where he taught include the boys-only agricultural Brymore School, where he was deputy head, and Heathfield School in Taunton.
'Pervy Walker'
The court heard how Walker, who taught PE and drama, would get girls to jump on a trampoline so he could see their underwear and used drama role-play to indecently touch them.
He would also walk into the girls' changing rooms after PE lessons on the pretext of speaking to other sports teachers.
Kerry Barker, prosecuting, said: "Mr Walker was known among those pupils as, I quote, a 'perv'. He was known as 'pervy Walker' and 'touchy feely Walker'."
A group of girls went to see the headmaster but he told them to stop "spreading nasty rumours".
Walker, who had been teaching for 36 years, retired from full-time teaching in 2004 and worked as a supply teacher until 2008.
Paul Mason, defending, said: "He feels extremely sorry for what's happened."
'Mental scars'
Walker was also placed on the sex offenders register for life and made the subject of a sexual offences prevention order.
Det Ch Insp Richard Kelvey said Walker breached parents' trust that their children would be safe in schools.
"For a number of years Walker believed he had got away with these crimes, crimes that have left emotional and mental scars on his victims."
One of his victims said: "As school children concerns were raised when these acts were being carried out but no action was taken.
"When officers from Avon and Somerset Police approached us, we were relieved that allegations were being taken seriously, and everything possible was being done to bring this man to justice.
"We now hope the sentence passed today will enable us to continue living our lives safe in the knowledge that Walker is behind bars and he can cause no further harm."