Georgian building find in Somerset gardens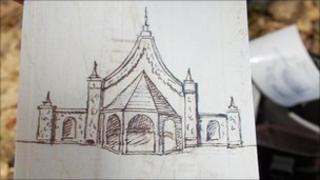 The remains of a 250-year-old building believed to have been used as a sheltered seating area have been discovered at a landscape garden in Somerset.
Staff at Hestercombe Gardens had been searching for the building for 10 years after it was spotted in an Ordnance Survey map printed in 1886.
"Now that we've excavated it, we know that it was another of these little seats as we call them and this little building is the ninth one we have identified," said chief executive Philip White.
"All the map shows is a path with another path coming off it and a circle which you could think was a tree."
The building is thought be have been used as a viewing area for visitors.
Although it was only marked as a circle, Mr White suspected it was more than just a tree and were perhaps toilets, which were sometimes built in 18th Century gardens.
"It's the last one I have any evidence for, so it's unlikely we will find anymore," he added.
The area where the remains were found looks over the Vale of Taunton, which in the 18th Century would have been more rural than today's built-up view.
Mr White said: "It's very significant because Hestercombe is like an oil painting and we're constantly trying to restore it to uncover the whole picture as it was designed in the 1750s.
"It will help us better understand how people were expected to view the gardens and what the views were."