BBC Somerset Bus: Find out where it is going to be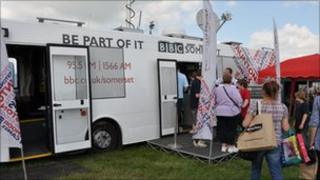 The BBC Somerset Bus is your voice to the rest of the county.
Our mobile studio travels around Somerset, visiting towns and villages. We want to meet you and find out what stories you want us to be talking about on the radio.
Every week, we broadcast live radio programmes from the bus, featuring the people, issues and events that make Somerset so special.
We also bring the bus to meet listeners and show you around our mobile studio.
Why not come down and see the bus next time it is out? You'll have the chance to meet our presenters, see a radio programme being produced and pick up some BBC Somerset freebies!
The aim of the bus is to bring your local radio station closer to you.
So, if you would like the bus to come along to an event you are involved with, get in touch with the BBC Somerset Bus and if you have any stories or events that you would like us to know about, then get in touch.
Then wait for the call - and we could be seeing you soon!
December
6: Bus Show, Glastonbury (Ben McGrail in for Emma Britton)
7: Bus Event, Cheddar Festive Night
14: Bus Show with Emma Britton, Taunton
19: Bus Show with Emma Britton, Bridgwater
January
4: Bus Show, Langport (Ben McGrail in for Emma Britton)
17: Bus Show with Emma Britton, Burnham on Sea / Highbridge
24: Bus Show with Emma Britton, Chard
31: Bus Show with Emma Britton, Wells