Vandalised Holy Thorn in Glastonbury has a new shoot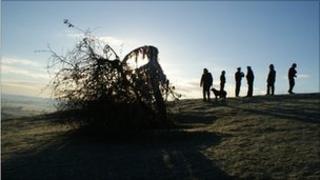 A historic tree in Glastonbury that was vandalised last year has begun showing signs of new life.
The Holy Thorn, which grew from a cutting of a tree said to have been planted by Joseph of Arimathea 2,000 years ago, had its branches cut off.
But since the attack in December, the trunk has survived the winter and a small green shoot has appeared.
The community is now being asked what should happen to the branches that were cut off.
Morgana West, from the Glastonbury Pilgrim Centre, said: "The new growth was actually spotted at the spring equinox which is quite encouraging. There's a skip in everybody's step in the town.
"During the month of January we were taking ideas and suggestions from the community as to what they would like to happen to the branches.
"We are now looking at presenting all those ideas to the community and hoping they will be able to choose what they feel would be the best way forward."
There are several Holy Thorn trees around the town. The vandalised tree on Wearyall Hill was planted in 1951 to celebrate the Festival of Britain.