Weston-super-Mare library move sparks campaign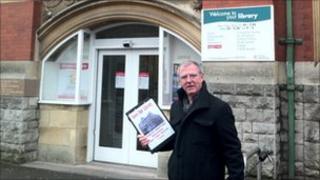 A campaign has been launched to keep Weston-super-Mare's library in its Grade II-listed home.
North Somerset Council plans to move the library from The Boulevard to the town hall to save money.
But Howard Smith, of the Save Weston Library Group, said he envisaged problems with parking and the library being down-sized.
Felicity Baker, the council's executive member for libraries, said some users called the current building "a dump".
Moving the library is part of council plans for a £9.8m refurbishment of the town hall to cut the number of buildings the authority occupies.
Mr Smith said he feared the library would be "shoved in a corner".
'Purpose built'
He said: "They say the service will be there, but I'm sure it will be much diminished because this is a substantial building. It was purpose built by Victorians who knew how to do things really well.
"Why move something that functions so well? It's on the level access of the street, it's got disabled parking around it, it's in a part of town that's central and it's very easy to park.
"I don't know how anyone is going to be able to park anywhere near the town hall."
Ms Baker said there had been complaints from users describing the current library as "a dump, smelly and dangerous".
She said: "Our plans are to provide a new library which will be a much better service.
"Up and down the country councils are closing libraries and here in North Somerset it's a success story. We are opening a new one in Portishead in the spring and now we're going to have a new one in Weston.
"We want to invest in the library service and give the people of Weston and the surrounding areas a nice new facility in the town hall."